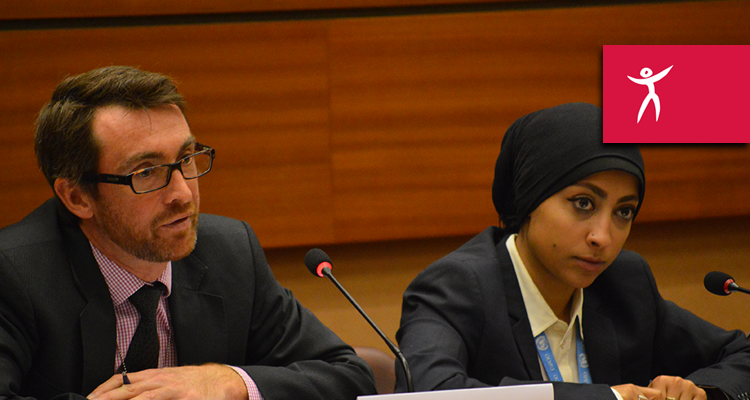 Kuwait | End crackdown on freedom of expression and women human rights defenders
As challenges and restrictions grow for women human rights defenders in Kuwait, ISHR and the Gulf Centre for Human Rights have urged the UN's body on women's rights to explicitly recognise the work of defenders as essential to the promotion, protection and realisation of women's rights.
In a joint report to the UN Committee on the Elimination of Discrimination against Women, the International Service for Human Rights (ISHR) and the Gulf Centre for Human Rights have highlighted the work of women human rights defenders and the many challenges they face.
ISHR's programme manager, Pooja Patel, said Kuwait must become more tolerant of free speech and respect for women's rights.
'Women in Kuwait have been sent to prison for merely sending tweets that were deemed to be offensive to the Emir. We're talking about extremely restrictive laws and punitive practices which take a toll on people who are trying to stand up for basic rights such as equality,' said Ms Patel.
The report examines the backlash faced by women defenders in challenging the many discriminatory laws that exist in Kuwait from Nationality Laws and Personal Status Laws to laws governing access to finance and land; unequal rights over children; insufficient criminalisation of marital rape and so called 'honour killings'.
It also draws attention to the specific risks women human rights defenders face on-line and off-line as a result of legislation that restricts freedom of expression and association, and permits arbitrary arrest and detention in conditions that fall below international standards. For example, Kuwait's cybercrimes law prohibits even mere "criticism" of the Emir, with no reference to a standard of accuracy or public interest as a defence to such a charge, rendering the Emir "untouchable" in online discourse, upon the threat of conviction and financial penalties.
Sara Al-Drees is one of many activists who has been arrested, detained and tried for 'tweets' allegedly insulting the Emir and Ms Patel said her arrest was arbitrary and the trial was unfair.
'These sorts of cases are typical of the increasing targeting of human rights defenders in Kuwait that are resulting in a real strangle-hold on political activity,' said Ms Patel
A group of human rights organisations including ISHR supported a monitoring report of Al-Drees' trial in November 2016 and stated that 'on any reasonable view, the tweets constitute a legitimate exercise in freedom of expression under international law'.
Rana Al-Sadoun and academic Sheikha Al-Jassem are other women human rights defenders in Kuwait who have experienced arbitrary arrest, detention and sentencing for political activity .
The report also states that conditions of detention in Kuwait constituted inhuman and degrading treatment, that there is a lack of procedural and legal safeguards to ensure fair trials, and the various provisions of the law being applied against Al Drees 'offend the principle of legality'.
In addition to online targeting and harassment, human rights defenders and activists face travel bans, revocation of citizenship, refusal to renew passport, refusal to issue birth certificates or official documentation for new-born children, denial of boarding, freezing of assets, denial of employment, targeting of spouses and threats of imprisonment without their infant children.  The impact has been particularly harsh on the 'Bedoon' community whom Kuwait refuses to recognise and protect, and in respect of whom Kuwait rejected many of the recommendations it received in 2015 when the UN reviewed its human rights performance in a process known as the Universal Periodic Review.
'We call on the Committee to explicitly recognise that the work of women human rights defenders as essential to the promotion, protection and realisation of women's rights. The attacks and restrictions against defenders amount to a violation of the rights enshrined in the Convention on the Elimination of Discrimination Against Women, for which they advocate. We urge the Government to engage with civil society to ensure a transparent and inclusive process of reform, and develop and implement a national law and mechanism on the recognition and protection of human rights defenders, including women human rights defenders,' said Ms Patel.
Fleur Heyworth, a Treaty Bodies consultant working pro bono for ISHR and the principal author of the report, said there were many practical steps that Kuwait could take to improve it's human rights practices.
'The Kuwaiti government must take concrete measures to reform laws to guarantee equality, protect civil and political rights and bring conditions of detention and trial in line with international standards, including by ensuring that the National Human Rights Institution (Diwan) complies with the Paris Principles. The Government should also ensure that the Cyber Crimes Law 2015 will not be used to target on-line activists or citizen journalists, and instead guarantee Freedom of Expression and Association for all and promote public awareness and support for the important, valid and legitimate work of women human rights defenders,' said Ms Heyworth.
The report has been submitted ahead of the Treaty Body Committee (CEDAW) consideration of Kuwait's implementation of the Convention on the Elimination of Discrimination against Women.
ISHR and the Gulf Centre for Human Rights have prepared a submission for the List of Issues to be drawn up between 6 and 10 March, in advance of the 68th Session in October 2017.
Kuwait CEDAW submission to list of issues
For futher information, please contact Pooja Patel via [email protected]