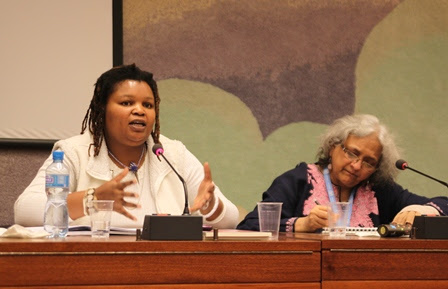 Fikile Vilakazi: South African LGBT human rights defender
Fikile Vilakazi
Programme Director, Coalition of African Lesbians (CAL), South Africa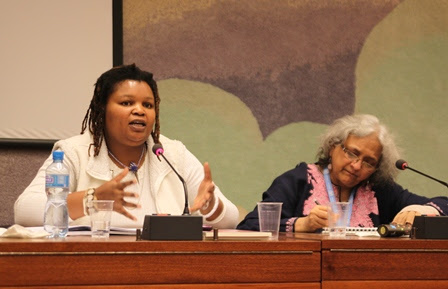 Fikile Vilakazi has fought discrimination since childhood. Her identity, as a black, lesbian, woman has led her to be a target of intolerance and prejudice, and driven her to defend the rights of lesbian, gay, bi-sexual, transgender and intersex (LGBTI) people.
Her earliest experience in standing up against discrimination came as a child, through involvement in the fight against apartheid, and through her refusal to accept the traditional family role as the 'girl child'.
'Gender discrimination was very pronounced when I was growing up,' she says. 'As the "girl child", I was expected to cook and clean and take care of the boys, and I hated the injustice of this. I liked sports and I wanted to play with the boys. I couldn't understand why we couldn't all play and then share the responsibilities when we got home.'
Even at such a young age, standing up against gender discrimination had severe consequences for Fikile. She suffered beatings and sexual abuse, before deciding to run away from home and take up life on the streets.
The rough environment became even more difficult when her identity as a lesbian also became known. Her worst experiences saw her suffer psychological, physical and sexual abuse – ultimately inspiring her to take up work as a human rights defender.
'What motivated me was a realisation that I was constantly being discriminated against. My experience had always been one of having to fight to defend my being and my identity. That made me realise something is really wrong with the world and I had to stand up and do something about it,' she says.
The work undertaken by Fikile and her colleagues at CAL in South Africa is all too important in a context where the constitutional and legislative framework is not yet translating into real justice for individuals.
The South African Constitution, established at the end of apartheid when the principles of non-discrimination and equality were seen as critical, has provided a basis for the repeal of many laws which were discriminatory against LGBTI people.
However hate crimes, including 'corrective rapes', beatings, and murder of LGBTI persons, are still all too common, as is a lack of justice for these crimes. More subtle, or at least less physical, forms of discrimination also exist, such as harassment, being disowned by families, and discriminatory school uniform and workplace policies.
CAL and other LGBTI organisations are faced with addressing both the direct consequences of discrimination, and other effects such as homelessness, high unemployment, poverty, hunger, social exclusion, prostitution, and poor health.
Despite its broad human rights work, CAL was recently denied observer status at the 48th Session of the African Commission. While reasons for the decision were slow to be aired by the Commission, it was eventually ascertained the denial was on the grounds that CAL supposedly does not promote or protect any of the rights guaranteed in the African Charter.
'It is shocking that the Commissioners cannot see that what they are doing is discrimination,' says Fikile, 'and even more shocking that the people who have made these decisions are judges and lawyers, people who know about the Charter and what it represents.
'These people, of all people, should certainly know that every person has the right to food, shelter, education, justice, life and liberty… regardless of their race, gender, sexual identity or any other factor.
'What's worse is the decision by the African Commission legitimises discrimination at national levels, including moves to tighten up the death sentence for homosexual acts. I'm not asking them to understand my sexual orientation, but they can stop the violence,' she says.
Many NGOs represented at the African Commission have condemned the decision.
Fikile welcomed the solidarity and support of these organisations. 'As a collective of human rights activists, we cannot afford to keep silent when one group is discriminated against, because if they can discriminate against one, they can discriminate against any other.
'We all need to stand up together to end discrimination on any basis, because permitting injustice in one area only opens the door to a compromise of many other fundamental human rights.'