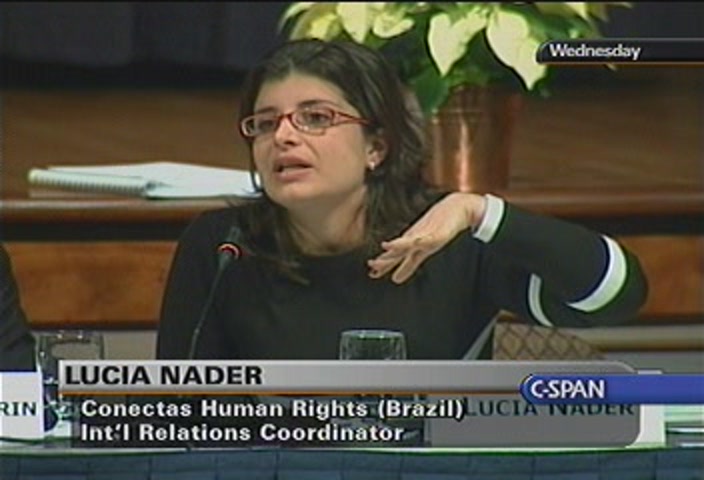 Lucia Nader: Executive Director of Conectas, Brazil
Lucia's interest in human rights was sparked by the rapid increase in violence that hit Brazil from the 1980s and continues to this day. In 1999 Lucia decided to volunteer at Instituto Sou da Paz, a Brazilian NGO fighting urban violence, despite being aware that she faced risks in doing so. This decision turned out to be the start of Lucia Nader's career as a committed human rights defender.
'I was at one and the same time afraid of the violence, and eager to work against its main cause: the lack of access to basic rights.'
Today Lucia is the executive director of Conectas one of the leading NGOs in Brazil and Latin America. Conectas' mission is to promote human rights in the global south (across Africa, Asia, and Latin America). One of the ways in which it does this is through the Global South Program, which aims to increase the impact of a new generation of defenders from the global south. Through its Justice Program, Conectas also carries out strategic litigation with focus in the Brazilian criminal justice system.  
'In Brazil, there is a range of excellent civil society organisations. However, they are very often at risk, both regarding their financial sustainability and the personal security of human rights defenders.'
As Lucia points out, an increased risk for human rights defenders is a trend across much of the global south. Part of the problem, Lucia argues, is that despite the emergence of formal democracies, democratic values have yet to reach all parts of society. On top of this there is a need to consolidate strong democratic institutions. Particularly in emerging powers, it is crucial that the promotion of social, economic, and cultural rights takes place alongside the promotion of civil and political rights.
'Unfortunately, the urge for economic growth and development often comes along with gross human rights violations, for instance when indigenous peoples in the Amazon have to make way for large energy projects.'
According to Lucia, Brazil today is in a key moment of its history. As an emerging power, it needs to decide, 'what kind of country' it wants to be. It needs to define its core values, both as a society and in relation to human rights abroad. Conectas acts by pushing for the mainstreaming of human rights in policy, and in the discourse of society in general. While Brazil is a democracy, much has to be done to implement that choice and to ensure that human rights are prioritised above national interest.
'Every single time we denounce something in a newspaper, TV channel or radio, we receive hate mails, saying that we were protecting criminals and are responsible for the huge rate of homicides in Brazil.'
But engaging for human rights in Brazil is not an easy task, as it often comes along with intimidation. Conectas has experienced this in particular in relation to its work with the prison system. According to Lucia, both State officials who are criminally involved, and criminal gangs within the prison system, view Conectas' engagement as a threat to their own control.
'ECOSOC status gave Conectas the possibility of attending UN meetings and participating and submitting documents in a formal way. It also gives credibility to an organisation as it is a 'label', which proves your organisation works both internationally and on a high level.'
Conectas frequently utilises the United Nations mechanisms. This is made possible through the consultative status with ECOSOC accorded to Conectas in 2006. According to Lucia, the main value of working within the UN framework is what she calls the 'boomerang effect', which refers to using the UN as one component of a broader strategy. By tackling a problem using the UN, the domestic struggle can be reinforced and often made more visible. As one success story, Lucia brings up a side-event organised by Conectas a few years ago, which looked at the prison system in the Brazilian state of Espirito Santo. After having worked on that issue for many years at the national level, Conectas had decided to bring it to the UN, a decision which gave huge visibility to the issue in the Brazilian media through which public authorities could be held more accountable for violations. Concrete changes were implemented, such as a prohibition on holding prisoners in metal containers. Though the prison conditions are still bad, Lucia holds that engagement at the UN did at least have some positive impact.
'Participating in ISHR's training course was key for my personal and professional development.'
Lucia first had direct contact with the UN system during a three-week ISHR training session, which she attended in Geneva in 2005. The training provided her with a deeper 'hands on' knowledge of the UN system and the opportunities it entails. It also put her in contact with other human rights activists from all over the world, as well as opening doors by giving her contacts with senior UN and government officials. Participating in the training inspired her to design a programme to strengthen the international work of Conectas. That programme is today Conectas' Foreign Policy and Human Rights Program, and one of the organisation's main fields of activity.