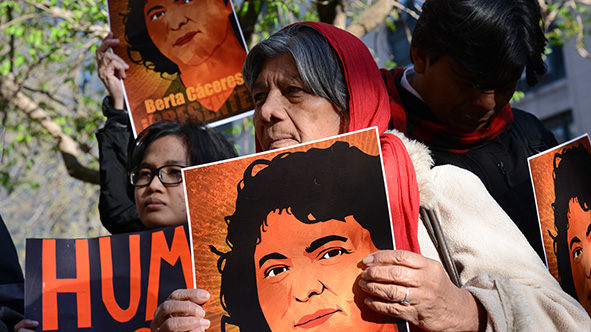 Consult, Respect, Protect: Including human rights defenders in National Action Plans on Business and Human Rights
Publication launch and public debate
Wednesday 15 June 2016
16h00 - 17h30
Palais des Nations, Room XXIII, Geneva
Read / Download the event flyer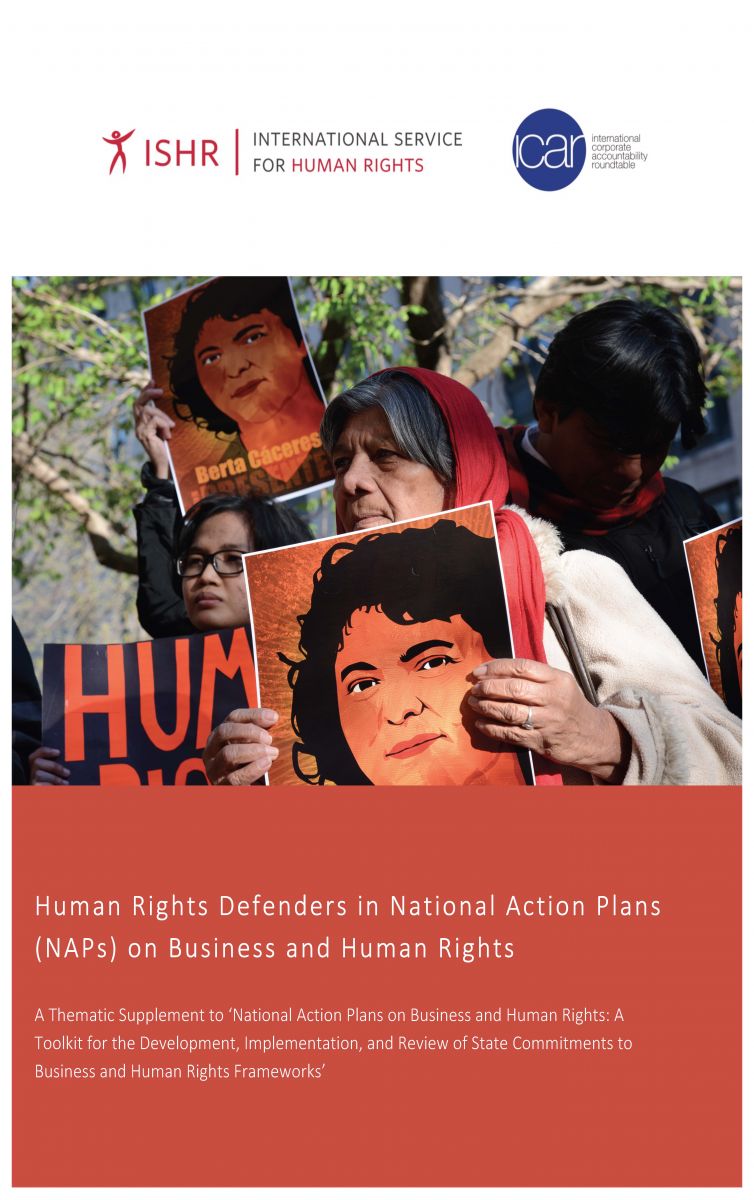 Join the International Service for Human Rights (ISHR) and the International Corporate Accountability Roundtable in a public discussion about how and why human rights defenders should be consulted in the development of National Action Plans on Business and Human Rights (NAPs) and protected by their provisions.
This event will also launch ISHR and ICAR's new guidance on this subject, situating NAPs in the broader contexts of extreme risks facing human rights defenders taking on business abuses.
Civil society, State, business and UN representatives will discuss how defenders can help ensure business respect for human rights, the risks they face in doing so, and how NAPs can provide a policy platform through which to protect and engage communities, activists and NGOs.
We encourage you to take a look at the new guidance (available in English, French and Spanish), come along and participate in the discussion!
Moderator
Harriet Berg, Permanent Mission of Norway to the United Nations at Geneva
Panelists
Michael Addo, Expert Member of UN Working Group on Business and Human Rights (by video)
Catie Shavin, Director, Global Business Initiative on Human Rights
Ivette González, Strategic Engagement Associate, Project on Organizing, Development, Education, and Research (PODER), Mexico
Hiram Kabarita, Regional Protection Officer (East and Horn Africa), Protection International, Kenya
Nicole Karlebach, Senior Legal Counsel, Business and Human Rights, Yahoo!
Cindy Woods, Legal and Policy Fellow, International Corporate Accountability Roundtable (ICAR)
Ben Leather, Advocacy, Training and Communications Manager, International Service for Human Rights (ISHR)
Follow the event on Twitter: #ConsultRespectProtect
Sandwiches, coffee and snacks will be provided at the entrance to the event
Habrá interpreteción inglés - español
---
Lanzamiento de nueva publicación y debate público
Miércoles 15 juin 2016
16h00 - 17h30
Palais des Nations, Sala XXIII
Ustedes están invitados/as a un debate público organizado por el Servicio Internacional para los Derechos Humanos (ISHR) y la Mesa Redonda Internacional para la Rendición de Cuentas Empresarial (ICAR), sobre cómo y por qué las y los defensores de derechos humanos deben ser consultadas en el desarrollo de los Planes Nacionales de Acción sobre Empresas y Derechos Humanos (PNA), y protegidos por las provisiones de los mismos.
Este evento también lanzará la nueva guía de ISHR y ICAR sobre este tema, situando los PNA dentro del contexto más amplio de riesgos extremos enfrentando a defensoras y defensores quienes pretenden frenar los abusos empresariales.
Representantes de la sociedad civil, de Estados y de la ONU hablarán de cómo las y los defensores pueden asegurar que las empresas respeten los derechos humanos, cuáles son los riesgos que ellos enfrentan al hacerlo, y cómo los PNA pueden proporcionar una plataforma a través de la cuál las comunidades, los activístas y las ONG pueden ser protegidas e involucradas.
Les animamos a Ustedes a que revisen esta nueva guía (disponible en inglés, francés y español), a que asistan ¡y participen en el debate!
Facilitadora
Harriet Berg, Misión Permanente de Noruega ante las Naciones Unidas en Ginebra
Panelistas
Michael Addo, Miembro Experto del Grupo de Trabajo de la ONU sobre Empresas y Derechos Humanos (por video)
Catie Shavin, Director, Global Business Initiative on Human Rights
Ivette González, Asociada de Vinculación Estratégica, Proyecto sobre Organización, Desarrollo, Educación e Investigación (PODER), México
Hiram Kabarita, Oficial Regional de Protección (Este y Cuerno de África), Protección Internacional, Kenia
Nicole Karlebach, Senior Legal Counsel, Business and Human Rights, Yahoo!
Cindy Woods, Encargada de Política Jurídica, Mesa Redonda Internacional para la Rendición de Cuentas Empresarial (ICAR)
Ben Leather, Encargado de Incidencia, Formación y Comunicación, Servicio Internacional para los Derechos Humanos (ISHR)
Sigue el evento en Twitter: #ConsultRespectProtect
Sandwich, café y snacks serán proporcionado a la entrada del evento
There will be English - Spanish translation