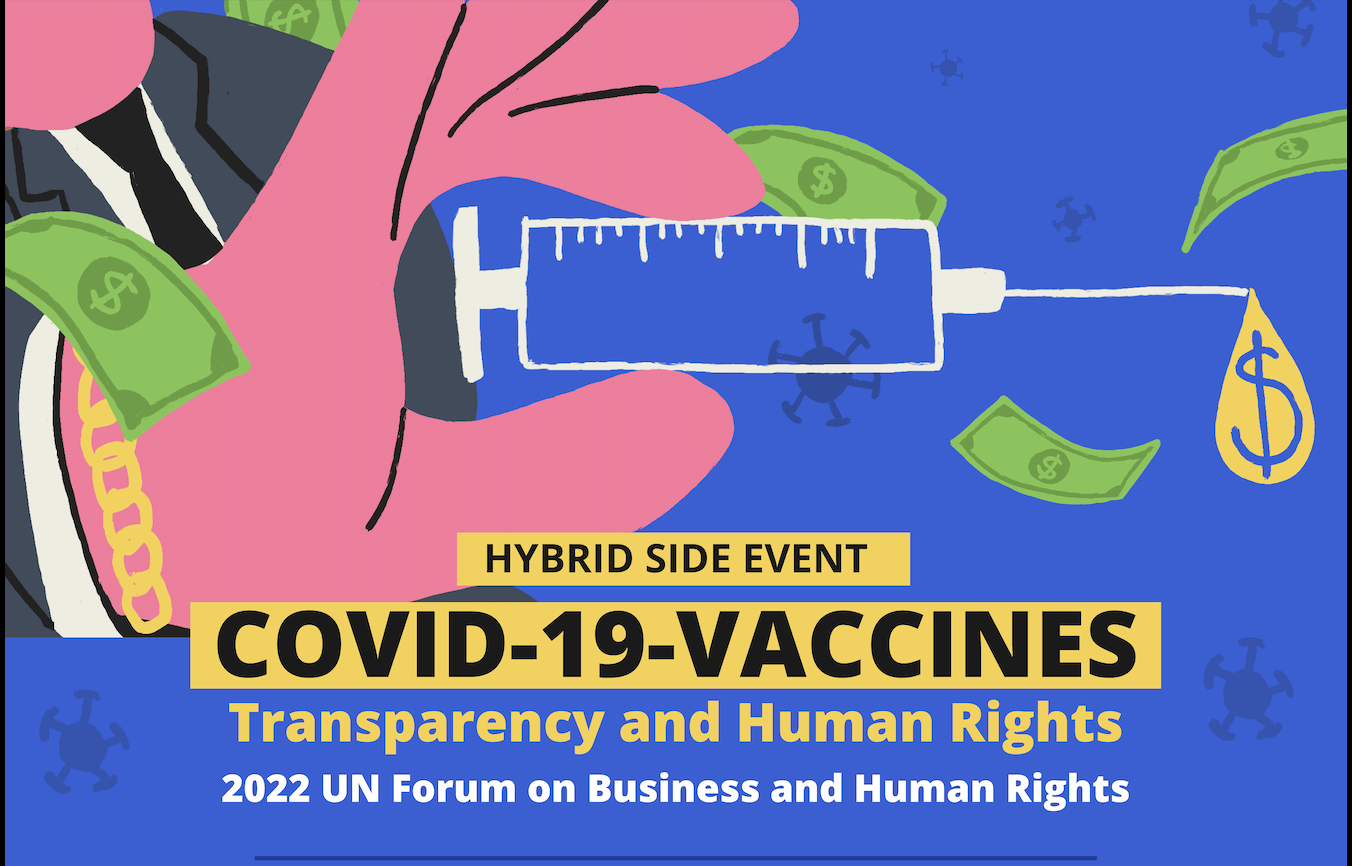 Covid-19 vaccines, transparency, and human rights defenders
Register here. 
The Covid-19 pandemic has brought with it a profound economic, financial and care crisis on a global scale, exacerbating the crisis of democratic systems of government, and shrinking further the civic space.
Lack of transparency, human rights violations, unequal access and poor corporate accountability have been prevalent in corporate responses during the pandemic, in a context where global health systems have enormous difficulties in dealing with a public health crisis of the magnitude of the Covid-19 pandemic. Lack of access to vaccines and treatment of the disease continues to be a risk factor for poor populations and countries.
Our analysis shows how pharmaceutical companies and other economic sectors exerted pressure on governments to reactivate certain sectors early on, while rigid restrictions, such as quarantine or social distancing measures, remained in force for the rest of society. The issue of transparency in the contracts between States and those companies developing COVID-19 vaccines is also concerning. In many instances, governments had to accept contractual conditions that protected the companies' ability to impose prices on vaccines, medicines and supplies; to accept jurisdictions that have nothing to do with the purchasing country or the location of the producing company; allowing the use of public resources as private goods that result in patents and hinder the production and distribution of essential drugs to the population; and accepting clauses that evade corporate accountability and responsibility for non-compliance with contracts or harm caused by their products. 
In this discussion, we will reflect on how the lack of transparency in the processes of purchase and access to vaccines is crossed by phenomena such as corporate capture, opening the door to conflicts of interest and corruption, and how human rights defenders that strive for transparency have been negatively impacted. In a question and answer format guided by the moderator, the panel will also highlight the efforts made to counteract the influence of corporations in the responses to the pandemic. We will also reflect on actions and proposals that can be taken to curb corporate capture and guarantee the rights to health and of access to information.
PANELISTS:
Fernanda Hopenhaym, UNWG - General overview on Business and Human Rights
Marc Botenga, European Parliament - European perspectives, experiences on the topic (virtual)
Mogha Kamal-Yanni, People's Vaccines Alliance - Transparency and TRIPS waiver (virtual)
Julieta Lamberti, PODER - Transparency and corporate capture, research and results
Sofía Montenegro, Oxfam Latin America - Latin American perspectives (virtual)
Andrés Zaragoza, International Service for Human Rights - Human rights defenders and civic space
Paloma Muñoz, BSR - Institutional investors ecosystem perspectives