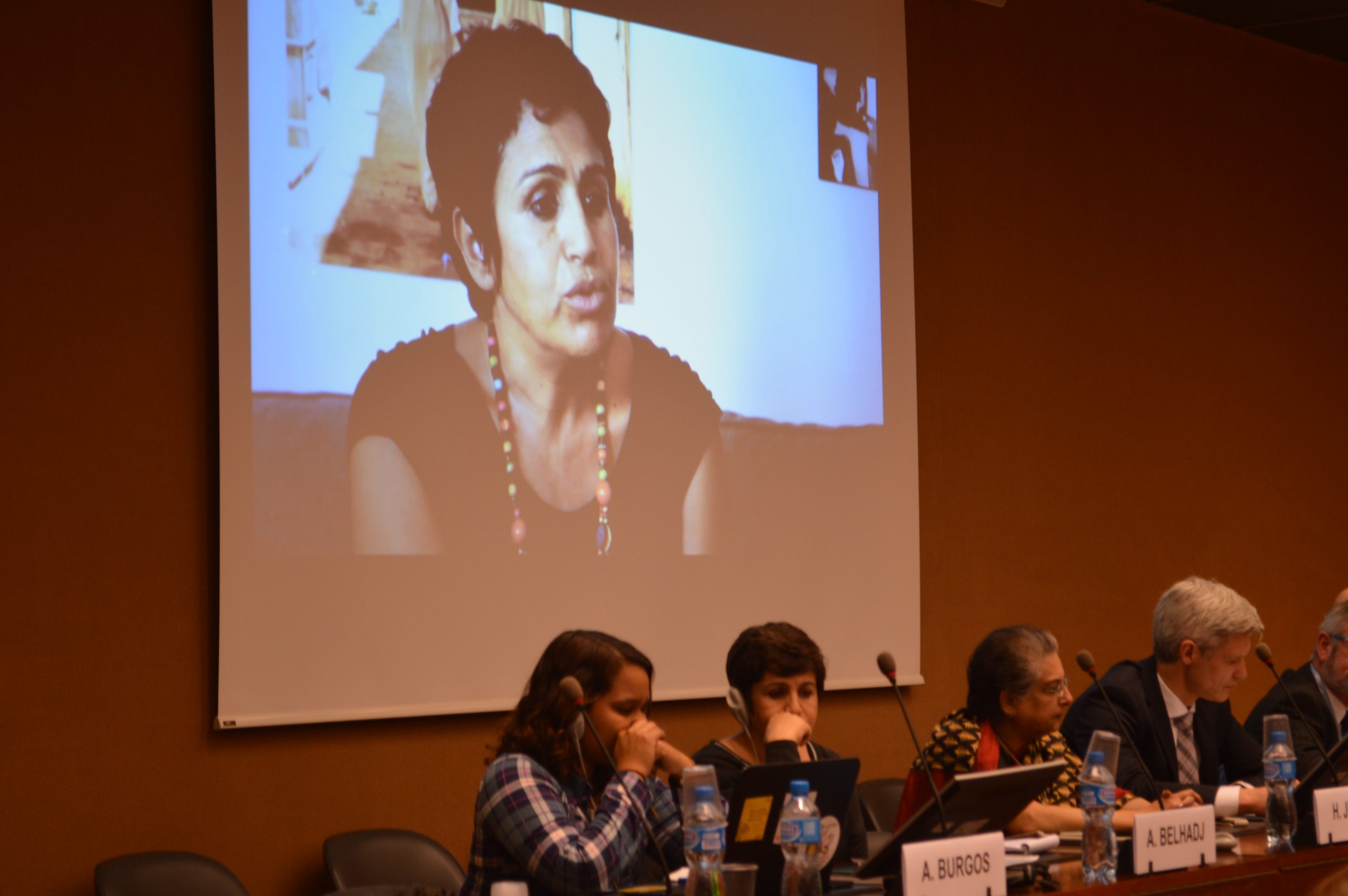 Ahlem Beladj: Feminist activist from Tunisia
Este artículo también se encuentra en español aquí.  
Ahlem Belhadj talks to ISHR about her experiences as a women human rights defender in Tunisia; a country that was commended by the High Commissioner for Human Rights on 26 May 2015 for its recent progress in terms of respect for democratic voices and civil society.
Ahlem Belhadj has been working for the promotion and protection of women's rights in Tunisia, fighting for sexual parity and social equality, for three decades. She participated in her first march in celebration of International Women's Day on 8 March 1983, and was an active and prominent human rights defender throughout the Jasmine Revolution in 2011.
Ahlem joined a high-level side event during the 28th session of the Human Rights Council to explore strategies to ensure better protection of WHRDs at the national level.
In talking about her past, Ahlem openly described the additional struggles she faced as a result of her husband, Brik Zoghlami, being imprisoned and then being prohibited from practicing law in Tunisia on his release.
'This was challenging for me. I had to continue to work and raise our children. I was also targeted because of my work – and criticised by conservatives who perceived me as anti-Muslim. I have been called a liar, prostitute, and an enemy of democracy.'
Ahlem is the director or the Tunisian Association of Democratic Women (ATFD). ATFD is dedicated to the elimination of all forms of discrimination against women, the transformation of patriarchal attitudes, the defence of women's acquired rights, and the participation of women in all aspects of political and civil rights.
Ahlem acknowledged that there have been successes in terms of women's rights in Tunisia recently. In doing so, she referred to the introduction of the charter of the Constitution guaranteeing equality between genders, and the withdrawal of reservations to the Convention on the Elimination of Discrimination against Women.
However, Ahlem explained to ISHR that notwithstanding these developments, ATFD and its members continue to face significant opposition to their activities in Tunisia.
'Our meetings are interrupted by officials and we suffer moral attacks, including being called prostitutes.'
She also expressed continuing concern for the rights of women in Tunisia, explaining that there is still a long way to go.
'While there has been positive development recently in Tunisia, there has not been any change in the law and women still face discrimination. I am concerned that this discrimination will continue if conservative opinions remain in power.' 
In speaking of the United Nations, Ahlem acknowledges the important role that its mechanisms play in guaranteeing equality for women.
'We engage in the United Nations mechanisms that are available to us, but I think that everyday tools need to be established so that women human rights defenders in Tunisia feel protected by, and they are able to access, the mechanisms of the United Nations. We also need to ensure that these mechanisms are available for any person who legitimately works to protect the rights of women. Attacks on women human rights defenders in Tunisia by the government are still often met with impunity.' 
Ahlem places a critical importance on solidarity in bringing about change.
'Solidarity is the key ingredient. Solidarity brings results. It is important to work together to create visibility. This in turn will assist with accessing UN mechanisms. As a network we can work together.'