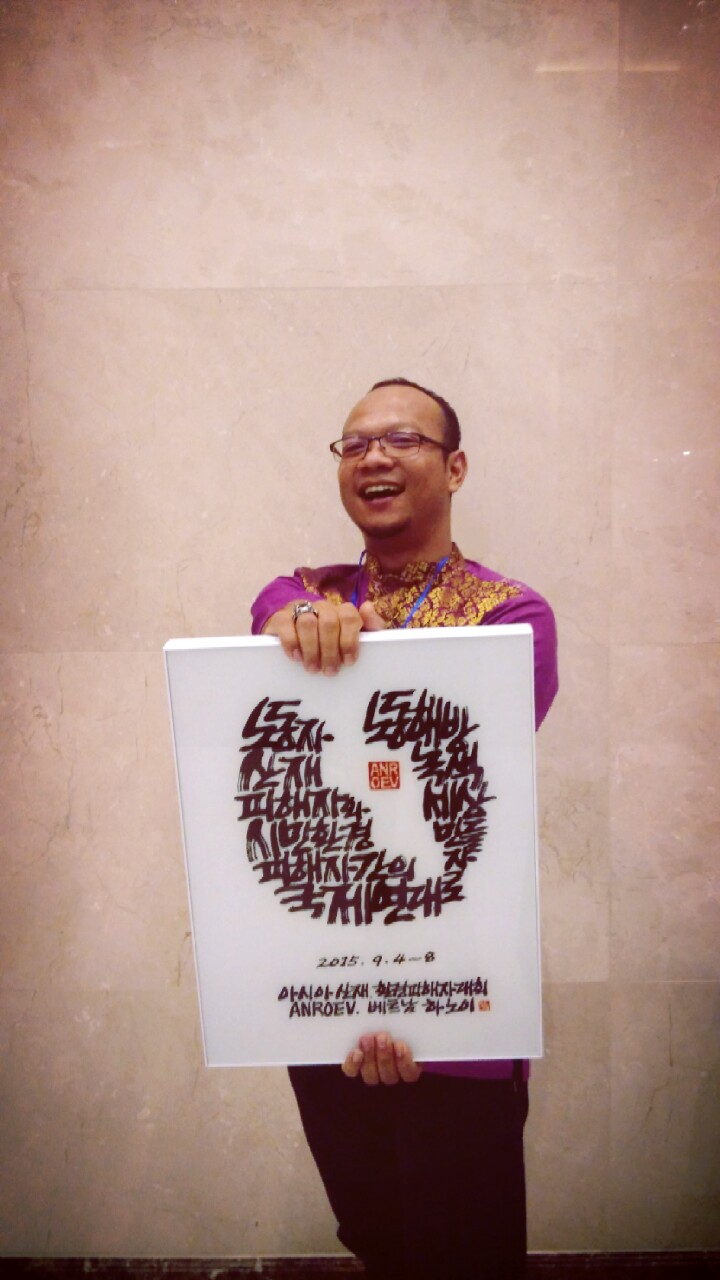 Defender Profile: Muchamad Darisman, West Java, Indonesia
Article disponible en français ici. 
Lea este artículo en español aquí.
Since the end of the Suharto era, Indonesia has made ever-accelerating progress economically, including joining the G-20, and is now the world's fourth most populous country with over 255 million people. However, that development has a price. The demands of that population – for housing, food, and energy – have meant development of buildings, infrastructure, and an industrial agriculture at a similarly breakneck pace.  For those who build the skyscrapers of Jakarta, who harvest palm oil on Sumatra, or manufacture sportswear in Java, health risks and business-related human rights abuses are pervasive.
Enter Muchamad Darisman. He currently partners with U.S.-based Worker Rights Consortium to monitor and improve working conditions in garment factories, but he is also the founder, since 2009, of a local NGO that raises awareness of occupational disease and victim's rights. He has led campaigns to highlight the ongoing (and legal) use of asbestos in Indonesia and across the Asian region, and to raise awareness about the negative health impacts on workers and communities.
'The worker needs to be the main source'
'What we see in Indonesia is a lack of knowledge by almost all workers about their rights, and the development of unions is low. So violence at work and occupational safety and health risks are common,' says Darisman.
The Indonesian garment sector is considerably more developed than some of its regional counterparts. Nonetheless, the relationship between workers and factory management can be tense, especially when there are complaints.
Sometimes, the brand will just use a company [supplier factory] report, which might not be inclusive of the workers' perspective. For us, it is important that the worker be the main source. We go to them in the dormitories, and listen to their cases. Then, even if the factory denies the findings, we have proof and can talk to the brand.
Worker-centred monitoring schemes on a range of labor rights, including occupational safety and health, are growing in popularity as traditional, third-party audit models are falling out of favor in the aftermath of the disasters in 'up to code' factories in Bangladesh and Pakistan, including Rana Plaza.
When the brand gets involved, sometimes they still deny the findings. They don't want to take on responsibility for working conditions or freedom of association.
Soft tactics and quiet threats
The environment for NGOs and freedom of association in Indonesia is, compared to other ASEAN countries, relatively open. Nonetheless, the impact of the 2013 Law on Mass Organisations requiring both foreign and domestic NGOs to report on funding and activities and cementing management of NGOs in the Ministry of Home Affairs has posed some barriers, including to major international NGOs. – Workers have the right to form and join unions, another element of freedom of association, under the Ministry of Manpower, but implementation is not complete. For example, the government still has the discretion to approve the registration, or not.
I had one case in [a major car manufacturing facility] where workers wanted to organize, but the management wouldn't give permission. There was an inactive union already. So the workers went to the local authorities, but the government refused to give them a permit letter. It isn't clear, but we think the company used their influence – they just didn't want a progressive union that would exercise its rights.   
However, defenders working on issues of corporate accountability in the sector, which is arguably one of the more advanced and responsive to reputational risk, still face threats in their work.
A lot of the time, we are just told at the door that we cannot have access.  Other times, the threats come outside the factory, with people watching and following us, the NGO workers, and even their own workers who are trying to organize a union.
Union-busting is common, and occasionally, Darisman notes, factories involve local gangs. 'It depends on the nature of the company, on how closely it is linked to the brand. But surveillance is soft tactic, while other times they might question you, or even go to your home to tell your family that you are causing trouble'.
Garment factories have also come under criticism for alleged contamination of local waterways by chemicals used in dying, printing, and finishing synthetic fabrics.
No paradise under these palm trees
Land rights and the progressive expansion of agricultural plantations are another issue confronting Indonesian activists and civil society. In Indonesia, roughly 6 million hectares are under cultivation – an area twice the size of Belgium.
Abuses related to land are common. 'A lot of the time, NGOs working on land issues and organisations of farmers will be stigmatized; they might be labelled "Communist" or, at the same time, be accused of being the "hand of Western states". They are interrogated about their sources of funding, and sometimes their projects are blocked'.
On 29 September, farmers from three of the major islands came together in Jakarta to demand official recognition of ownership of the land they work, according to Indonesian law. Leaders of farmers' organisations described the barriers posed by local governments, who act in their own interest to sell the land to mining or plantation businesses. Clashes often occur between farmers defending their right to land and police, soldiers and 'criminals paid by companies'. In a separate case in February 2015, a young land and worker rights activist was killed, allegedly by security guards for the Asia Pulp and Paper company.
The extractives sector poses its own challenges. As Mr Darisman spoke with ISHR, the East Java police were wrapping up an investigation regarding the death of a farmer known as Salim. His body was found on 26 September, bearing signs of torture, and official comments have confirmed that his death was directly linked to his role leading a protest against an illegal local sand mining operation.
The role of brands, and the way forward on human rights
Many brands, say Darisman, are reluctant to act even when they hear about abuses in their supply chains. They don't want to take on the responsibility of fixing problems. Some models have developed to help supplier factories meet minimum standards through a combination of training and monitoring, most prominently the ILO's Better Work program. But, say some activists, this does not always solve the problem and instead, can give a stamp of approval to companies who, in other facilities or at other times, have been charged with human rights abuses. 'These factories have to resolve the issues at the root, not just delay or hide behind a CSR program'.
Working in coalitions has been helpful in achieving success in victim organizing on issues of occupational disease. In part, Darisman notes, this is because companies from China, Korea and Vietnam can be difficult to work with, so sharing strategies and approaches is critical. But he adds that it is also a result of development patterns in the region –as asbestos materials were banned in countries like Japan, and later South Korea, the factories moved elsewhere, including to Indonesia. Asian regional networks, for example ANROEV and A-BAN, have brought together victims of asbestosis or other occupational disease to connect those currently in litigation with victims from other jurisdictions who were successful in securing compensation to motivate one another and share advocacy strategies.
The UN is really important, and civil society should know how to use it, what tools can help them push Indonesia from the grassroots level to do what the UN recommends. But a lot of socialization needs to happen first. Training is key.
The more people can share information, including at the international level, the better those networks and coalitions can advocate for change on the ground.  Darisman remains optimistic, he says, especially when he looks at his friends and other civil society organisations. The efforts of government and the brands by themselves are not sufficient to change, which needs to be driven by those most affected.
I am just one person, but there are many out there working on these issues and taking even bigger risks. Workers want change, and even though it won't come easily, we can fight together for rights regardless of national borders, push the governments, get to the heart of global brands, and change global society from the grassroots.
In the weeks and days leading up to the UN Forum on Business and Human Rights, ISHR will publish a series of articles by leading experts including human rights defenders, UN representatives, diplomats, businesses and international NGOs. Each article will include an analysis of the important role of human rights defenders and will be compiled in a special edition of ISHR's Human Rights Monitor, to be launched in English, French and Spanish on November 9. The views expressed in the pieces are personal and do not necessarily represent the position of ISHR.