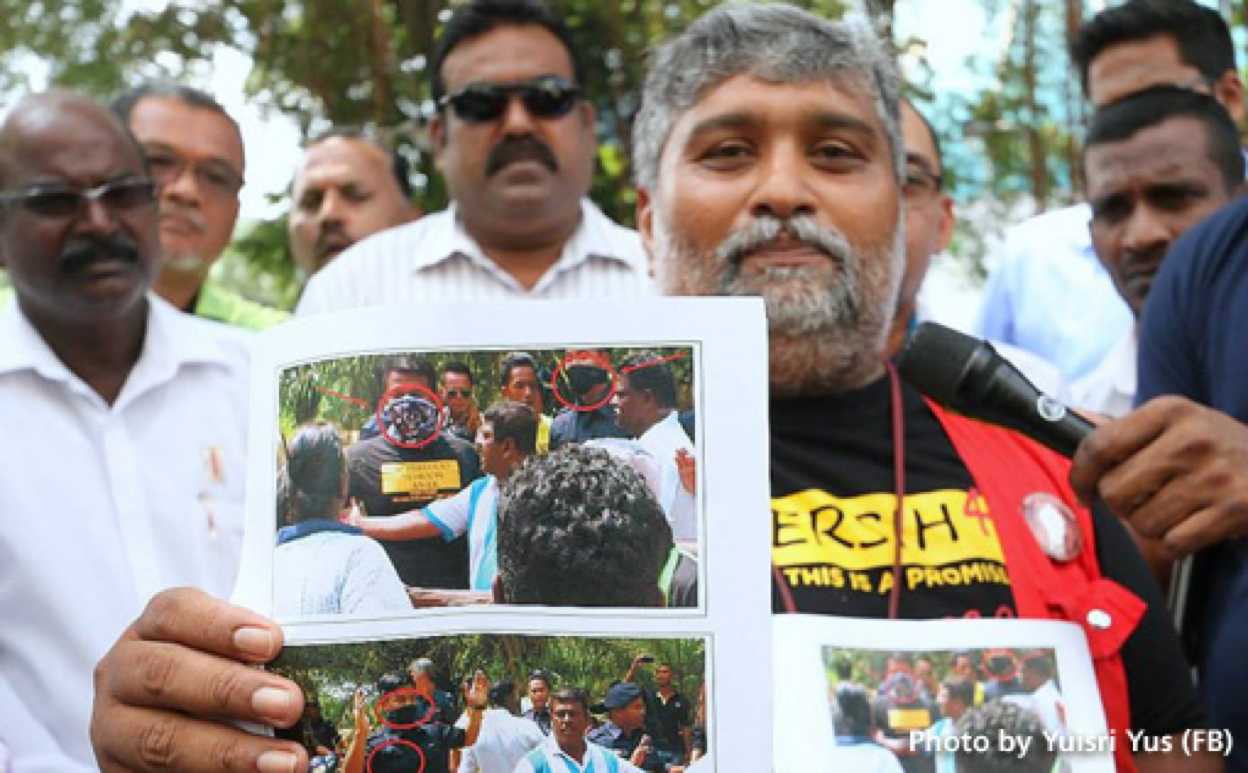 Human Rights Defender Profile: Arutchelvan Subramaniams from Malaysia
Arutchelvan Subramaniams, known as Arul, is a prominent grassroots human rights defender. He works primarily for the protection of economic, social and cultural rights - including housing rights for the urban poor, the rights of farmers, plantation and industrial workers, as well as the rights of indigenous communities. Arul talks to ISHR about the challenges faced in his work and the importance of developing trust within communities in carrying out his work.
Arutchelvan Subramaniams, known as Arul, is a prominent grassroots human rights defender from Malaysia.  He works primarily for the protection of economic, social and cultural (ESC) rights – including housing rights for the urban poor, the rights of farmers, plantation and industrial workers, as well as the rights of indigenous communities.
'Progress in grassroots movements does not happen overnight. It takes time to build trust and achieve communal goals. Organising people and empowering them is a long process. It may take 10 to 15 years before we see any form of win.'
A large part of Arul's work involves training local and indigenous communities, and assisting them to understand how to best interact with Government representatives and police, as well as development companies – which are often behind land grabbing of indigenous land. Arul is known for being the negotiator at large demonstrations; negotiating with the police on behalf of the community. 
On 7 March 2016, Arul took part in a joint side event on the protection of human rights defenders working on ESC rights, held by ISHR along with 8 other regional and international NGOs. The discussion examined risks faced by ESC rights defenders and good practices to strengthen their protection, building on those identified by the Special Rapporteur on human rights defenders in his recent report presented to the 31st session of the Human Rights Council.
During the side event, Arul provided important views on risks and challenges ESC rights defenders face in Malaysia – emphasising for example that the collusion between states and businesses intensify the risk for defenders and the laws used the restrict them. Arul also discussed good practices to protect these defenders.
Arul became involved in human rights work during his first year of university. Together with some classmates he wanted to document poverty in Malaysia. He was shocked to find that the poverty was significantly worse than anticipated – with the effect that the questionnaire they had developed to conduct the study was unusable. From this point Arul and his colleagues formed a community development centre where they examined the existing structural issues contributing to this poverty, which later became JARIT – the oppressed people's network.
Risks and challenges facing defenders in Malaysia
Working on the frontlines to defend ESC rights Arul is no stranger to being arrested. He estimates that he has been arrested over 40 times.
'Sometimes I am shocked by the circumstances in which I am arrested. I was once arrested on my way to a protest, I was still at least two kilometres away and had not yet taken part in the protest. Another time I was helping out at a local community in which a developer was preparing to demolish a temple; a developer that we well known for being associated with a gang. The police requested that we go to the station for a meeting. While waiting for the so called meeting the police assisted the developers to file fabricated charges against us – which resulted in our arrest for four days for allegedly rioting.'
New trespasser legislation that restricts the right to freedom of assembly has significantly hindered Arul, as well as other more well-known defenders. The law enables Police to obtain a court order banning certain people from entering, or being closer than 1 km to, the area of a proposed demonstration. Announcements to this effect will be incorporated into newspapers the day before the event.
Defenders are often arrested for charges including obstruction, rioting and unlawful assembly. Defamation is also often used by the State and developers to de-legitimise defenders.
Further, it is difficult for NGOs to officially register as organisations, as the register is strictly controlled by the Home Ministry. Registration requests are often declined, especially applications by outspoken NGOs. This means that most NGOs are required to register as a company to access funds. This has the effect that these NGOs must also comply with obligations required of companies. 
Development companies also seek to silence defenders by other means.
'A developer recently approached me seeking that I settle a pending case before the Court. He said that he would offer me a certain amount of money if I did this. In response I said why don't you use that money to compensate the community instead? Why waste it on me or the police?'
Social media and the press
It is only in the last 5-6 years that human rights have started to receive recognition in Malaysia, as with the rest of Asia it has been widely known as a western concept says Arul. He believes that globalisation and social media has helped.
'Social media helps us to expose violations and allows us to reach more people than before. We used to only have State channels, but now that we can access international channels this helps to democratise and to build confidence. Today a lot more people are aware of human rights and more people protest in support of these rights.'
Engaging with international human rights mechanisms
As Arul mostly works at the local level he does not generally actively engage in the international human rights mechanism; his perspective of the UN from the vantage point of a grass roots activist is both positive and negative. Arul considers the UN to be a good forum to launch complaints, as well as to bring the international community's attention to human rights violations committed in Malaysia. However he does not consider the UN has sufficient powers to act in a way that translates into effective action on the ground.  
'By being able to launch complaints through UN mechanisms we can put human rights violations on the international agenda which has some impact at home. But it is even more crucial to have a strong movement at home that can fight for the protection of ESC rights.'
Arul refers to instances where local activists have interacted with UN mechanisms. Recently a complaint was launched in connection with two arrests made pursuant to 'state of emergency laws' on charges of 'sabotaging the national economy'.
Arul specifically referred to the positive impact of UN experts who have visited Malaysia, in particular impacts associated with reports produced following those visits. However he would like to see some reforms to the mandate of the Special Rapporteurs as he feels their current actions are limited.         
'It would be better if Special Rapporteurs could make visits without the invitation of the State. Sometimes I question if the scope of their powers; it is a very diplomatic procedure. If they visit Malaysia and saw the gross violations that occur, I would hope that they would hold a press conference and criticise the Government openly.'