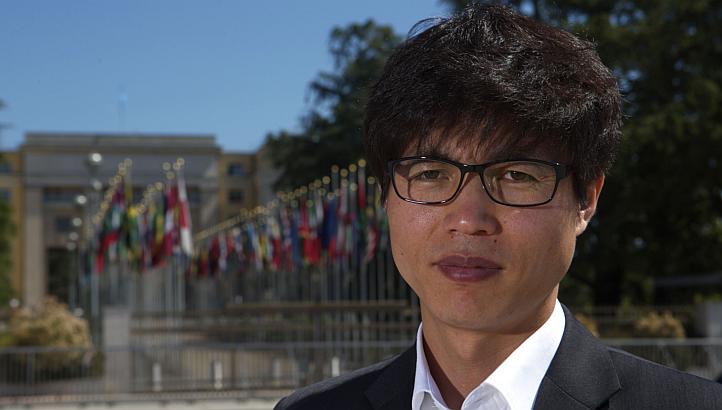 Shin Dong-hyuk: North Korean human rights defender
Shin Dong-Hyuk was born and spent the first 23 years of his life in prison Camp 14 in North Korea. Shin escaped from the camp in 2005, the only person known to have done so, and has since dedicated himself to exposing gross human rights violations in North Koreas and struggling for the freedom of its people.
'People in a political prison camp lead a life less than the animals. They are treated worse than the dogs raised in the camp. What I wish to tell them is that despite the inhumane life conditions, they have to survive, so that they can see for themselves what kind of outside world we have and the people who live in it.'
Shin Dong-Hyuk was born and spent the first 23 years of his life in prison Camp 14 in North Korea. In the camp he was ill-treated, dehumanised and made to witness the public execution of his mother and brother. Not only did he not enjoy freedom, he says, but he had no idea what freedom meant.
Courageously, Shin escaped from the camp in 2005 and remains the only known person to have done so. He has since dedicated his life to raising awareness of the conditions in the camps and struggling for the human rights and fundamental freedoms of his fellow North Koreans. As he said, he understands how awful the regime is, how awful the dictatorship is and that if his words could help anyone he would do it.
'I know that the outside world isn't easy to live in, but people need to know, at the very least, that there is a life so much different from what they are living and that there is another world outside.'
Thanks to Shin the world has heard about the horrible abuses occurring in that secret prison Camp 14, one of the toughest slave labour camps in North Korea. The dramatic story of his life is presented in his biography 'Escape from Camp 14: One Man's Remarkable Odyssey from North Korea to Freedom in the West', written by Blaine Harden and based on interviews with Shin. The book, as well as the film 'Camp 14–Total Control Zone', relate his life in prison, including the fact that his mother and brother died in front of him in a public execution.
'My father and I had to stand and watched the death of my mother and brother; however, I couldn't cry at that moment. I never learned how to cry in political prisoner camp.'
In 2013 the UN established a Commission of Inquiry (COI), which collected testimonies from witnesses in relation to gross human rights violations in North Korea. As one of member of the COI said, Shin was the 'single strongest voice that speaks to the atrocities that have taken place'. Shin believes that based on the report of the COI, the UN will produce a positive outcome for the country and its people.
'Freedom is something we may not tangibly feel, but once taken away from us, we eventually reach our death. I believe that freedom is as important to us as the heart and oxygen are important for life. '
Shin travels all over the world telling people, institutions and State representatives about the reality of life under the North Korean regime. But he make these encounters a two-way debate, asking questions back to the audience about what could be done to ensure action and accountability in relation to the violations. Recently Shin came to Geneva for a meeting at the UN Human Rights Council with the COI and made a statement saying that 'No one has a right to deprive of anyone the DNA of mankind: freedom.' As Shin observed in person at the HRC, victims of human rights violations are allowed only to have two-minute speeches, thus they have less time to speak than the representatives of authoritarian States.
Now living in the US, Shin has established an NGO called 'Inside NK', which is based in Washington DC. Inside NK mainly conducts interviews and webcasts with North Korean defectors on their real life and personal experience under the dictatorship, showing the harsh reality of North Korea. Inside NK said that it is starting to spread these filmed interviews into North Korea. As Shin said, the main aim of Inside NK is to be the voice and the newsfeed for people who don't have any other source of information about the country. Unfortunately, the organisation currently doesn't have enough funding to develop new projects, but as Shin declared they are determined to keep fighting for as long as they can.
'I will try my best to engage on the human rights issues of North Korea despite my emotional and physical exhaustion.'
Despite his active engagement on issues relating to North Korea and all his achievements, Shin doesn't consider himself a human right defender. He feels that he is doing what he has to do and he claims that anyone in his position would do just the same. In opening the world's eyes to the true horrors of the situation in North Korea, Shin is without doubt contributing to the promotion of human rights, and therefore is a human rights defender.
One of Shin's dreams is to go back to North Korea once all the prisons camps have been closed.
'So many people question me 'where do you think you are from? I don't know where I am from but my hometown is in North Korea.'
A video of Shin addressing the UN Human Rights Council on behalf of ISHR is available here, while a text of the statement is available here.
Marta Kolasinska is a Human Rights Advocate at the International Service for Human Rights.
For more information on the work of Inside NK see www.insidenk.org.