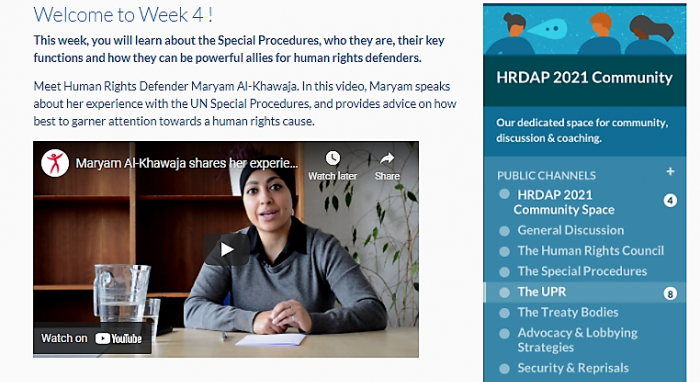 HRDAP21 | Nineteen inspiring activists enrolled in ISHR's flagship programme
ISHR's flagship Human Rights Defender Advocacy Programme (HRDAP) brought together 19 inspiring activists from around the globe through the brand-new HRDAP Platform on the ISHR Academy.
Article updated in September 2021
After the success of the first remote HRDAP in June 2020, ISHR ran its second distance learning Human Rights Defenders Advocacy Programme (HRDAP21), which took place between 5 April and 25 June 2021.
Each year, HRDAP provides activists with the tools they need to navigate the UN in order to achieve even greater impact on the ground. 
HRDAP21 Cohort
19 activists took part in the twelve-week course. They engaged with one another through peer check-in sessions, with human rights experts and advocates through live Q&As and discussions, received individual and group coaching sessions and developed advocacy strategies in order to engage in lobbying and advocacy activities at the UN, to effect change back home.
This truly global HRDAP21 cohort was made up of human rights defenders from 17 different countries, which include Burundi, Cambodia, Cameroon, India, Indonesia, Kenya, Lebanon, Mexico, the Netherlands, Peru, Poland, South Africa, Spain and other countries* with restrictive environments. (*these will not be mentioned due to the reported high level of reprisals against human rights defenders in these States)
The defenders work on many key human rights issues, including equality, dignity and non-discrimination; environmental justice and sustainability; international accountability for repression of human rights defenders and transparency and rule of law. In particular, the activists focus their efforts to:
Advance women's rights
Defend the rights of LGBTI persons
Achieve the recognition of migrant and refugee rights
Combat racism
Bring about change in highly restrictive environments
Create solutions for business and environmental issues and their impact on indigenous communities
Despite continued restrictions due to the global pandemic which has meant that HRDAP21 took place fully online for its second consecutive year, the dynamic group of defenders remained more committed than ever, engaging actively in the programme, forming a virtual global community from the four corners of the globe, while continuing their vital work for the promotion and protection of human rights in their respective countries.
A total of 14 defenders completed the entire programme. The remaining activists completed certain elements of the course, either due to personal circumstances or unforeseen events in their home countries.
Launch of the HRDAP Platform
Seizing the opportunity to further innovate and better support the needs of human rights defenders, ISHR – thanks to the generous contribution of donors – created a brand-new, unique and tailor-made HRDAP Platform on the ISHR Academy.
Through the HRDAP Platform, the defenders are able to access new interactive learning materials, new e-learning courses on each key UN human rights mechanism and body, as well as advocacy and lobbying strategies, exchange with one another via the HRDAP21 Community Space and during live peer check-in sessions, meet human rights experts and advocates in order to hear first-hand about the strategies used to push issues through the UN, and receive individual and group coaching from a dedicated ISHR staff member.
"Our flagship programme has entered a new and better way of giving defenders the information they need to navigate UN mechanisms and take their advocacy to new heights and achieve their goals. Welcome to HRDAP 2.0!" says HRDAP facilitator Diego Villanueva, from ISHR.
92% of HRDAP21 participants surveyed indicated that the HRDAP Platform and ISHR Academy were "easy to access and easy to navigate". 
To see the HRDAP Platform in action, see the HRDAP Platform video
HRDAP21 testimonies
 "As this year HRDAP takes place online, the e-learning platform is a crucial part of it. I must say it works smoothly, it's well organised and aesthetical, and you can't really get lost. The materials are diverse with a lot of practical reading and videos that you can keep for later. I especially appreciate the quizzes at the end of every thematic unit: they are helpful to structure my knowledge and underline what is an important takeaway of every chapter. Also, it's me who decides when to dedicate time to learn – I have access to it all the time and can go back if needed. And when I have a question, I can directly ask my peers or experts from ISHR about it: we have a special Mattermost space for it to facilitate communication and networking. Really appreciated!" (Justyna Nakielska, Campaign Against Homophobia, Poland)
"Besides a detailed curriculum covering each key UN [human rights] mechanism, it is the chance to meet experts who have years of experience advocating to promote human rights and can share their work through these mechanisms." (Yuthyia Soun, Cambodian Center for Human Rights (CCHR), Cambodia)
"Being part of HRDAP 2021 is a unique experience, firstly, because the platform they offer us to improve our knowledge about international advocacy is very useful, accessible and practical, besides having many resources and tools that allow us to amplify our work as human rights defenders. Secondly, having the opportunity to connect and meet defenders from all over the world makes me feel very motivated, not only to learn about their experiences but also because it makes me more aware that in every corner of the world actions are being taken to transform our reality and to live in fairer societies."
(Donovan Jiménez Ortega, Fray Francisco de Vitoria Human Rights Center, Mexico)
Where are they now?
3 months after the end of the programme, HRDAP21 defenders have continued their engagement at the international level. They have, among others, submitted reports and participated in informal meetings with the Committee on the Elimination of Discrimination Against Women, engaged with the Special Rapporteur on the Rights to Freedom of Peaceful Assembly and of Association and with the Special Rapporteur on Violence Against Women, and supported the delivery of an oral statement during an interactive dialogue during the 47th Session of the Human Rights Council.    
The tools I acquired such as the strategies and tips in order to enhance advocacy activities have been very useful: what to highlight in an advocacy campaign, recommendations of approaches for written submissions, how to maximize the effectiveness of lobbying before different actors have been useful these past 3 months. I've been able to see the improvement in my work in relation to how I carried out the same activities before HRDAP
HRDAP21 Alumni
The exchange of knowledge, skills building and the joint commitment shown by human rights defenders remains an inspiration for all involved in the programme, and ISHR looks forward to continuing this journey with the defenders.
100%

of HRDAPers surveyed were satisfied with the programme, with 82% stating that they were "very satisfied"

100%

either "agree" or "strongly agree" that they feel equipped to implement their advocacy strategies and to engage effectively with the UN human rights system, including the key human rights mechanisms

64%

strongly agree that they have expanded their network through meeting UN experts, other human rights advocates and ISHR staff and that they now feel part of a wider community of human rights defenders