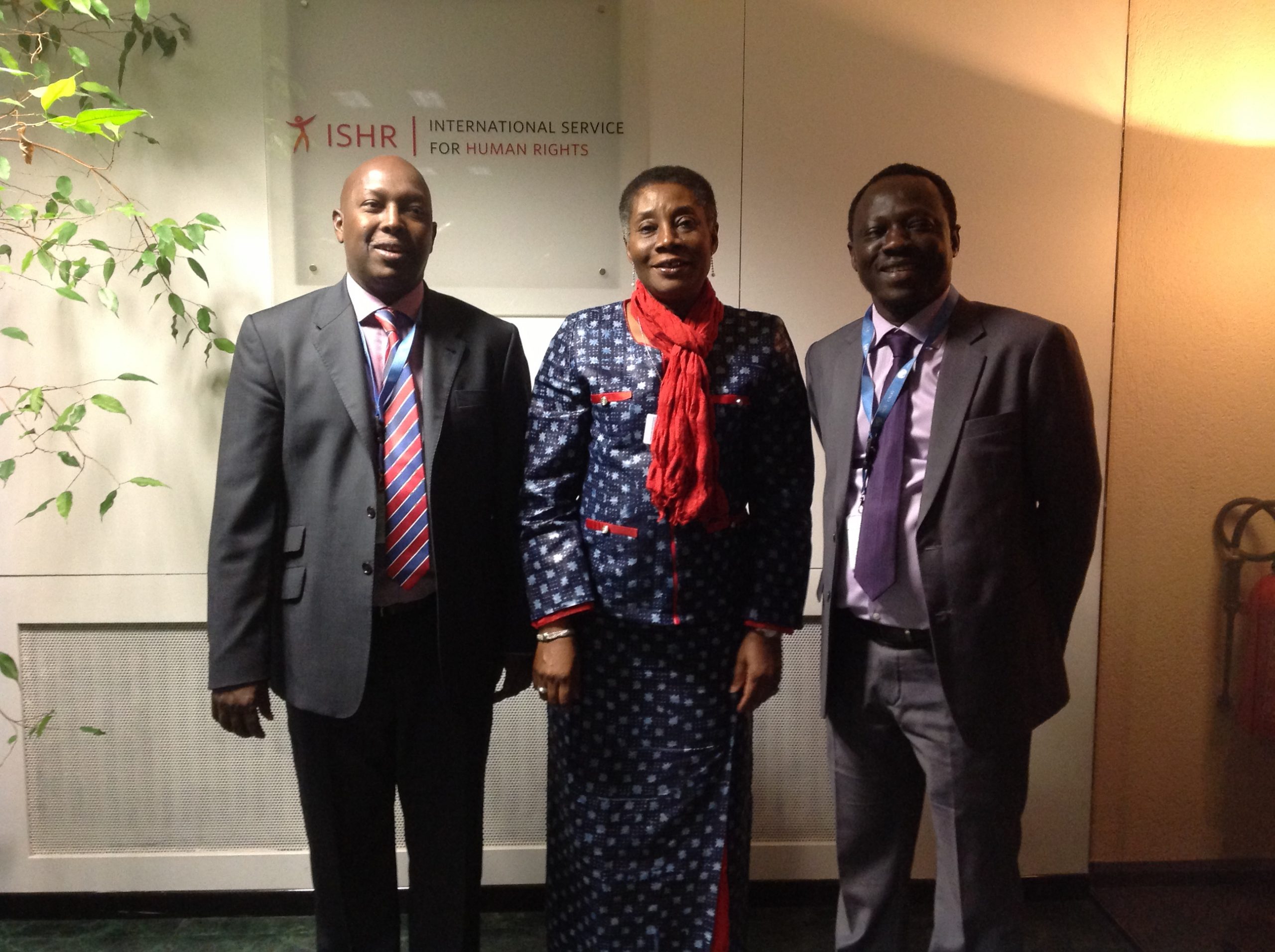 Hassan Shire Sheikh: Somali-Canadian pan-African human rights defender
(Geneva, 30 August 2013) – Hassan Shire Sheikh is a Somali-Canadian Pan-African human rights defender and the elected chairperson of the East and Horn of Africa Human Rights Defenders Network (EHAHRDN). Hassan's commitment and passion for human rights can be traced back to his early years growing up in Mogadishu, Somalia. In 2001, Hassan was forced to flee his home country and to seek asylum in Canada where he continued advocating for an end to the culture of impunity by demanding justice for victims of human rights violations.
The East and Horn of Africa Human Rights Defenders Network (EHAHRDN) brings together member organisations from eleven countries in the sub-region – Burundi, Djibouti, Eritrea, Ethiopia, Kenya, Rwanda, Somalia (and Somaliland), South Sudan, Sudan, Tanzania and Uganda. The East and Horn of Africa Human Rights Defenders Project (EHAHRDP) acts as the secretariat to the Network.
"Upon arrival in Canada, I didn't rest, because other colleagues in Africa (…) weren't getting recognition and assistance to enable them to overcome the difficulties that they were facing and continue with their human rights work. Rather, they were languishing in refugee camps."
Hassan carried out three months fieldwork in 2004 which allowed for an assessment of the current working conditions and the most pressing unmet needs of human rights defenders. The research highlighted insufficient collaboration among human rights organisations, resource constraints, the need for knowledge development, skills training, and to supplement efforts of local and national human rights defenders by those of the wider international community. EHAHRDN was created in 2005 as a result of these findings, its aim being to protect and defend human rights defenders in the region, to build the capacity of human rights defenders in the region, and to advocate and raise public awareness and profiles of human rights defenders in the region.
"One worrying trend is the enactment of many pieces of legislation placing undue restrictions on freedom of assembly, association and expression and their effects on human rights defenders' ability to do their work."
According to Hassan, in most parts of the region, the situation for human rights defenders is not improving and in many places is getting worse. However, the situation of human rights defenders varies from one country to another. Whilst in some countries the role of human rights defenders has been recognised and measures have been taken to protect human rights defenders, in other countries the situation has significantly worsened and attacks against activists are increasing. In Ethiopia, for instance, the Charities and Societies Proclamation 2009 has forced the vast majority of human rights NGOs to reduce or discontinue their work. Those attempting to continue their work are struggling to survive due to the severe funding restrictions contained in the law.
"Despite the continuing threats, increased networking and solidarity among human rights defenders (…) has in many cases improved human rights defenders' security, as well as the support of committed partners in national institutions and the international community."
EHAHRDN has been bringing international attention to the situation of human rights defenders working in the East and Horn of Africa. The situation of human rights defenders is now a regular part of 'mainstream' human rights reporting in the region. This has also enabled EHAHRDN and partners to reach further in supporting human rights defenders at risk.
"The UN has certainly stepped up its measures to protect human rights defenders that engage with it over the years"
Ever since completing his education, Hassan has been a member of the Global Civil Society Movement. For 15 years the movement campaigned for the recognition of the rights of human rights defenders and in 1998 the UN recognized the value and work of human rights defenders. Hassan took part in the international and regional HRD meetings that year which culminated in the adoption of the UN Declaration on Human Rights Defenders. Furthermore, Hassan took part in the panel discussion on reprisals at Council which took place in September last year and was an important step forward. 
The sub-region benefits from a large number of UN country mandates. In these countries, UN mechanisms have not only contributed to maintaining attention to the human rights situations, but have also provided an important avenue for human rights defenders to voice their concerns. It should however be noted that these mechanisms are vulnerable to political maneuvering.  Indeed political wrangling repeatedly prevented the Independent Expert on Burundi from presenting his report to the Human Rights Council as planned, before the mandate came to an end, and the resolution establishing the mandate of the Independent Expert on Sudan has for several years woefully misrepresented the grave human rights situation in the country.
EHAHRDN regularly engages with the UN especially the Human Rights Council, the UPR and the Special Procedures. It has been calling on the UN to take concrete actions to respond to reprisals and to work to prevent such reprisals from taking place. It is important for there to be a follow-up on cases that are reported to the UN and for unresolved cases not to be allowed to drop off the agenda. According to Hassan, this could be achieved by establishing a central OHCHR database of allegations received and any follow-up, as well as greater coordination and cooperation between different protection stakeholders, and by coordinating practical responses once reprisals have occurred.
"The NGO Forum and African Commission sessions provide a unique opportunity for networking and to build solidarity between human rights defenders in Africa as well as greater knowledge of the overall human rights situation on the continent".
The African Commission on Human and Peoples' Rights is important to the work of EHAHRDN not least because it provides a space to discuss regional solutions to regional problems. Although the special mechanisms of the Commission function in very similar ways to the UN Special Procedures, the quasi-judicial mechanism of the Commission is an added advantage as it allows human rights defenders to bring their complaints and receive a legally reasoned decision on their case.
"Through National Coalitions, EHAHRDP ensures that support available to human rights defenders is accessible by all human rights defenders working in the capitals but most importantly those working at community levels".
At the sub regional level, EHAHRDP continues to work with human rights defenders to strengthen the work of human rights defenders at national level. This is carried out through National Coalitions of human rights defenders which were formed and are actively engaged to ensure the respect and upholding of the rights of human rights defenders.
In addition to functioning as the secretariat of EHAHRDN, EHAHRDP was in 2009 chosen to host the Pan Africa Human Rights Defenders Network.  It brings together human rights defenders networks from East and Horn of Africa, Central Africa, North Africa, Southern Africa and West Africa and is aimed at coordinating activities in the area of protection, advocacy and capacity building for human rights defenders across the continent.
Jenna Logeais is an Intern with the International Service for Human Rights in Geneva.
Additional information regarding EHAHRDP's work including publications is available on the website. EHAHRDP submits bi-annual reports to the African Commission on Human and Peoples' Rights regarding the situation facing human rights defenders in the region. The full reports are also available on their website. www.defenddefenders.org.